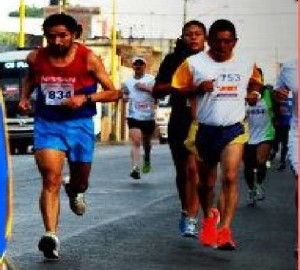 This week's post looks back to 27th April 2014 and the inaugural Carrera Atlética "Andrés Espinoza Pérez" 5K in the center of Oaxaca. This was a classic case of crowd weaving almost right until the end of the race with most of the runners waiting in front of the start line at the beginning of the race. So a crawl out of the traps at kilometer one with each subsequent kilometer a bit less crowded and a bit faster.  600 runners registered for the race and I think I passed around 500 of them.
I didn't have the best hopes for this race having just completed a punishing Traprock 50k in Connecticut the previous weekend. I'd cut my knee and hands up pretty bad and was still waiting for them to recover. I also had sore leg muscles from all the climbing. But I knew I was due to leave Mexico pretty soon and wanted to catch a few more races before going. They don't all need to be fast races and this one was just going to be for the fun of it.
I'd arrived in Oaxaca late the previous evening and the organizers allowed me to pick up my number on race day. This meant getting up early and waiting around for a bit before the start.
There was a good crowd for the race but everyone was gathering on the wrong side of the line. When they called over the loudspeaker for people to move, well.., nobody did. This sort of thing happens a lot in Mexico where everyone, including the slower runners, tends push to the front at the start of a race. I don't know why people do this. Maybe it's to try and get into the race photo or something. I mean, I really cant see the point in holding people up for a few extra seconds start, especially when most races either aren't timed or use the chip time. Normally I jump the fence near the line to get a better place but I was hemmed in at this race. What would I have done anyway? Waited in front of the runners in front of the line? It just wouldn't be British.
So I bit my lip and waited. The starting gun went off just to my left and the start of the race moved off at a snails pace somewhere off in the distance. It took me quite a while to reach the line. After this I walked for a bit, then jogged, and then, after a good minute and a half, started to run. By this time we had already taken two sharp turns up onto the narrow streets of Morelos and 2 de Abril. Even the pavement was crowded, as anyone with any sort of pace was jumping on there to try and build some speed up.
And so it continued up-hill onto Oriente and Niños Héroes. When it's crowded at the start of a race, its sometimes best to hold a steady slower pace to avoid weaving and at least preserve a bit of energy, but the crowd was still too slow for this. Another good tactic can be to follow another faster runner and let them push through for you, but no-one was getting through so I just held my pace – a lot slower than I would have liked.
At around 2.5k we turned and turned again to go downhill back towards the start and Avenue Independencia. At last I could start to pick up the pace but I'd already lost a fair bit of time. I was overtaking all the time right up until the finish. It wasn't until the last 200 meters that I could finally open up the cylinders and sprint with a decent amount of assertion onto the line. 21:06 for an over-distance race of 5.37k and an average pace of 3:56 per k over the piece. A career low for the 5k but not too bad considering the actual distance and the congestion.
After finishing I lined up and picked up my cool Andrés Espinoza Pérez race t-shirt. Andrés is a Mexican athlete who holds the current world record holder for the masters category (age 40+) set in the Berlin Marathon in 2003 with an outstanding time of 2:16:13 in 2003. This is about as fast as my fastest sprint finish and he ran it for over 42 kilometers. He still looks like he's in his 30s, and I bet he's never crossed the line before the start of a race 😉
On the way back to the hotel I walked past a lot of runners coming in to finish. It was a bit unfair on some of them as they'd started letting the traffic through and they had to go onto the pavement, so I decided to shout them on to lend a bit of encouragement. On reflection, it wasn't such a bad experience running up through the field as it gave me a different perspective on the race. At least I couldn't start out too fast and didn't have to slow down at the end. That's at least some consolation. Next time I'm just going to shove folk out of the way.
See you at the next race!