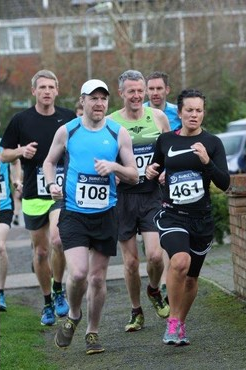 At the end of 2015 I was happy to run in the Buntingford 10, a traditional race organized by the Royston running club in the English county of Hertfordshire. It was perfect conditions for running and a great way to end the year in the beautiful English countryside. It was more or less up and down all the way, all 10 miles of it. This is a bit of a funny distance for me and I've never run a 10 miler competitively but the race turned out well. Although I was suffering from a mild stomach bug and cramped up a bit around my tummy, I still managed to pull off a half-decent time. A respectable 1 hour 8 minutes and 34 seconds.
For me, Christmas is a great time to get back home to visit the family and have a bit of rest and recuperation. It's also a good opportunity to get some running done in the fresh air and scenic climes of south east England. I was born in Northern Ireland and lived most of my life in Edinburgh, but my parents retired to this part of the country and there's a strong tradition of running clubs and local races. My mum is a member of clubs in both Stevenage and Letchworth and goes to quite a few races around the local area. This year she signed me up for the Buntingford 10. A post Christmas 10 miler to make up for the seasonal excesses and end the year on a healthy note.
The race would be on the 28th of December, three days after Christmas day, so I thought nothing of tucking into a hearty plateful of turkey and ham for Christmas dinner. The problem was that I felt bunged up and stuffed right up till the morning of the race. Not good. I'd  overeaten a bit, but not too much and I'd never really had this reaction to food before. It must've been some sort of stomach bug, possibly carried over from China. My abdomen was stiff and I felt dehydrated. I went for a 10k run on the afternoon of the 27th to try and test my stomach for the 10 miler. It wasn't the fastest 10k I've ever ran and I felt a little uncomfortable at points, but I'd made it and I figured that I could at least finish the race the next day.
Conditions on the morning of the race were perfect for the time of year. Sun shining, not too cold and just slightly damp underfoot. We arrived early and my mum met up with her North Herts Road Runner buddies. Pretty soon she was making excuses for my bloated condition, "his belly isn't normally like that". I was wearing a bit of a tight fitting top but didn't think it was that obvious. I don't think anyone was really that interested anyway. That's mums for you.
We had a good five minute walk from the sports center to the start of the race. This, for me, is a perfect warm-up. I've never been one for too much stretching and a nice wee walk normally does enough to loosen up my legs for any distance over five kilometers. After arriving at the start I finished my warm-up by bouncing on my toes for a bit to get my calves ready. The field looked strong with plenty of club runners drawn from around the local area. I know that these guys can start of quite quickly so I waited somewhere near the side rather than lining up at the front.
It was a countdown rather than a gun to start the race. 5, 4, 3, 2, 1, go! The first four kilometers took us through the housing estates and lanes of Buntingford. At around 2 and a half the course came off a single track and turned up a hill on one side of the road and back down on the other. This meant you could see the fast runners on the way up and find out who was behind you on the way back down. I was feeling strong and skipped past a couple of guys on the hill but the runners ahead looked a lot faster than me so I decided not to push it too hard.
After the turning we went up into a housing estate and back down again before heading into the countryside. The hills up to this point were quite regular. Half a kilometer up and half a kilometer down with a decent climb but nothing too harsh. On five and a half this changed with a brutal 40 meter climb into the countryside proper. Half a kilometer steep then tapering off for the next kilometer. At the start of the steep climb I held off a bit at let go of a couple of places. I was still feeling strong but I knew that if I tried to take the hill too quickly I could hurt my calves slowing me down for the rest of the race.
Around 7km we had a mini-dip to break up the climb and a well placed water station. I normally run anything below a marathon without taking water but having perfected my fast water cup grab at the first Nanjing marathon I decided to try it out again. The plastic cup was half-filled. I squeezed the top into an oblong and gulped down the contents. Back uphill. I was closing in on the pack of runners ahead and feeling good.
Come seven and a half, and half way (I think), it was down-hill again. The country roads were a real pleasure to run on. The wet English countryside reminded me of the country around Edinburgh and the constant twists and slight changes in gradient kept things interesting. Around kilometer nine I'd caught up with the pack of runners ahead before we turned onto the last hard climb of the race. I cursed at the climb ahead, "Come on!". The polite marshal let me know that there'd be a downhill soon. We climbed around 12 meters over the next kilometer before the downhill finally came. I'd held a pace around 4:15 in all but the steepest climb and we were approaching the 10km mark.
On the downhill I just lent forward, let gravity do its work and flew down the track. I picked off each of the runners from the pack I'd been following for the last five kilometer and pushed up on the runners ahead. I always try to lean forward on a downhill and use my weight as much as possible to accelerate while catching my breath using my arms to balance. This works well as long as your legs aren't too fatigued and the the decline isn't too steep. The country roads around Buntingford were perfect and I was still fresh by the time we had to start climbing again.
For the last five kilometers we would head back up-hill on a slightly different route back through Buntingford. One last push until the end. I picked off another place as we moved off a single-track section and turned up a steeper hill. At thirteen k the track started to twist and turn again. I pushed up on the runner ahead and waited until right at the end to put on a sprint finish. I crossed the line running fast and my legs were nice and sore. Job done.
I'd finished my first 10 mile race in 1 hour 8 minutes 34 seconds. 66th place out of 482 finishers. My belly was still tight, and would stay like that for another couple of days, but I don't think it slowed me down much at all. It'd been a nice run. Perfect conditions and a good field of runners. I'd definitely do this one again if I get the chance.
Next race the twentieth Hong Kong marathon in January. Roll on 2015…