At the end of January this year I decided to take well deserved break. A cycling and camping holiday around the island of Taiwan with my good friend Ning. Our journey would take us across and up the east coast of the island covering over 500km in a total of seven days.  We'd experience some fantastic scenery and have a unique perspective of one of the most friendly and diverse parts of east Asia. From the city, to the coast, to the jungle and mountains. Cycling Taiwan wasn't without it's challenges, but overall it was a very enjoyable and worthwhile experience.
The idea for the holiday came from Ning. Ning had already biked across Tibet and around the island of Hainan and wanted to add Taiwan to her list. I wanted a holiday where I could relax a bit but still stay in reasonably good shape for running. Cycling Taiwan seemed perfect for this. We could share the load carrying the tent and sleeping bags and still cover a good distance each day to see a some of the island.
We decided to carry our own tent and rough it by sleeping in camp-sites whenever possible. Another option for this type of holiday is to go with an organised tour and stay in hotels. But we felt that this might take a bit of the adventure out of the thing. I felt it would be a lot more satisfying to plan our own route and see if we could make our way across the island without help. Planning the route, getting lost and finding yourself somewhere random is a bit part of the fun when travelling so I like to avoid organised tours and keep things spontaneous whenever I can.
A lot of people take a fortnight to go all around the whole island but as we only had seven days I decided we should stick to the more scenic south east corner before catching the train North for a final stage across the northern coast and on to Taipei. This would still mean some tough cycling but we'd miss out the major population areas on the west coast and a busy highway from Hualien to Keelung. We'd also catch some of the highlights such as the northern and southernmost tips of Taiwan, the tropic of Cancer and the rift valley area. We couldn't tell anyone we'd cycled around Taiwan (or even from that we'd cycled the length of Taiwan) but at least we'd catch some of the best bits.
I did a bit more of the planning before the trip, but while we were away Ning would be in charge of speaking to people. I took responsibility for navigation. This made a lot of sense given Ning's outgoing personality (and ability to speak Chinese). Ning was comfortable speaking to people and I was equally comfortable with my maps and GPS. The arrangement worked well. At least we got where we wanted to go without getting lost too badly or having any major communication problems.
Departure from Suzhou and Arrival in Kaohsiung  
Despite being busy at work, I'd managed to do a little on-line research in the month before the journey. This ended up helping us a lot when it came to packing and preparing.
It seems that one of the big mistakes people make on this type of trip is packing too much. You don't want to miss out on any type of essential item, but if you over-pack it can make your bike unstable. I had to stop Ning when she went to pack a hair-dryer and was a bit concerned that she didn't seem to have any of what I'd consider proper cycling stuff. In the end, we didn't seem to be carrying too much weight. I didn't get too stressed about leaving stuff behind ether. In fact, truth-be-told, it felt liberating. Cutting back to living with the bare essentials. Who really needs all this stuff anyway.
As soon as we left the house I realised what I needed and what I didn't have. Waterproof shoes for one. My New balance MR00 were excellent running shoes but they seemed to drink water through the soles like a sponge. I had a spare pair of shoes in my bag but these were also MR00's, just a slightly different colour. Damn-it.
In the taxi to the bus I tried to imagine how I could deal with the situation. Well, I'd just have to dry my feet off with a towel when they got wet. Shit. I'd also forgot to bring a towel too. Never mind. I'd scheduled a free day in Kaohsiung to pick up anything we'd forgot to pack. I'd get one there.
As it turned out we didn't have time to buy a towel. The flight from Shanghai Pudong was delayed and we had to stop over for an unscheduled night in Hong Kong. The hotel Dragonair booked for us was a fair distance from the airport and we had to wait an age for the taxi. This meant we arrived in Taipei late and when we finally caught the bullet train to Kaohsiung we were very tired and didn't have much time to get stuff done. In the end I hadn't the time to buy a towel or any other extra equipment in Kaohsiung. I'd have to do without.
Luckily Ning had already booked the bikes from the Giant bike shop over the phone from China so this was something we didn't have to deal with on the day. This is a good deal offered by Giant. You can rent bikes in any Giant factory store in Taiwan and leave them back to any other Giant factory store when you're done. This is perfect for long distance cycling. The one thing is that you have to be sure to visit a factory store and not a franchise. Only the factory stores can rent you a bike and only factory stores can take them back.
We took the subway across town to pick up our bikes after dinner. After looking the bikes up and down, rattling gears and pushing down tires it was a pleasant ride back to the hotel through the side-streets of Kaohsiung. I mounted my phone on the front of the bike and used an Android App MAP.ME with off-line maps to take me back. It worked like a charm. I'd also brought my Suunto Ambit GPS watch with navigation functionality. I downloaded some tracks off the internet and uploaded them to my watch for the larger stages of the journey. These didn't cover exactly all the routes we'd be following, but I guessed that using this together with the phone we could get to where we were going easily enough. And it seemed to work out well.
When we arrived back at the hotel we packed our tents and gear onto the bikes. I'd be carrying my clothes, camera equipment, a sleeping bag, the tent and our two empty ruck-sacks. As I piled the stuff on the bike it started to feel heavy and tipped back a bit. I was beginning to become concerned that it might sway from side to side when I tried to ride it or something might get caught in the wheel. I made an effort to load the heavy stuff at the bottom of the panniers where I could and move the centre of gravity down and away from the back of the bike. I also tied up some of the loose cords from the backpacks. This would have to do.
There still must've been about 16 or 17 extra kilos on the bike at least. I thought this could be a problem but I didn't want to look too upset for Ning's sake. The weather outline wasn't that great either. It was wet and the forecast was for temperatures around 4 degrees the next morning. I was beginning to have my doubts about the viability of the whole thing.  Could we really cover the projected 500+ kilometres in these conditions. Of course we could.

Over the 7 (and a bit) days we covered 544 kilometres in around 45 hours of cycling to cover a good part of the island. Over hills, along the coast and through some of the nicer populated areas. Cycling during the day, occasionally at night and through the wind and rain.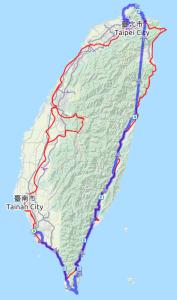 Day 1: Sunday, our first day would take us from Koahsuing to Fengang along the west coast in the cold and rain. 78.4km covered.
Day 2: On Monday we'd go from Fengang to the south tip of the island and over the mountains to Pingtung County. A pretty decent 92.5km covered over some tough terrain.
Day 3: Tuesday would take us from Pingtung County back into the mountains and along the coast road to Minmao. A tough 70.75km.
Day 4: On wednesday we'd cycle out of Binmao along the coast into the rift valley and on to Guanshan. Another tough cycle, 76.9km this time.
Day 5: Thursday we'd leave Guanshan, cycle across the tropic of Cancer and finally arrive at Hualien on the east coast. A mighty 128.5km, cycling well into the night.
Day 6: On Friday, we'd travel by train from Hualian to Badu then cycle through the night from Badu to Jinshan. Just 31km covered on the bikes, but good progress made.
Day 7: On Saturday, our last day, we'd travel along the north coast from Jinshan to the northernmost point before cycling into the capital city of Taipei. Finishing off with 62.3 kilometres over hills and through the traffic.
To be continued..