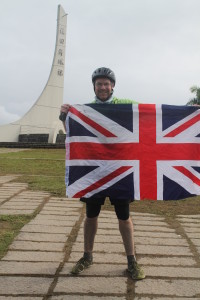 This would be our best day's cycling yet. Over 100km. Across the tropic of Cancer and out of the rift valley to Hualien on the coast. Moving day and night in the rain to get to the city before catching the train the next morning.
When we woke at our camp-site in Guanshan it was still raining heavily. This meant I'd have no dry shoes to cycle in. There's something disturbing about putting wet shoes onto dry feet, and I always like to keep my feet warm and dry if I can, but my feet were still in aright condition so I guessed it wouldn't do too much harm. We packed the tent, loaded the bikes and saddled up.
Ning reckoned we could make up over 100km and reach Hualien but I wasn't so sure at this stage. We ended up leaving the camp-site just before eight and stopped for some breakfast at the seven-eleven. An early enough start to make our target if we could hold a decent pace.
On the way out of Guanshan we passed a road accident, a rice museum and some unicyclists. Seeing these guys on one wheel made me feel grateful to at least have two wheels to cycle on. I have no idea what they were doing but it looked difficult. Sometimes you see the strangest things on the road. As we went on I started to feel sorry for whoever was involved in the road accident. The top was knocked clean off a small van, I'm not sure anyone could have walked away from that one. Safety first.
As we pushed on I started to notice how sore my ass felt and how dirty my legs were getting. Never mind, we were making good progress. We had travelled almost 40km in just three hours and had over six hours of sunlight left. Maybe we'd make it to Hualian after all. We stopped for a brief cup of tea and stock up on snacks at the seven-eleven.
The seven eleven stores are everywhere in Taiwan. They're not the best places for healthy food but they have a wide variety of snacks and sit-down lavatories (which are rare outside of the big cities). This time I afforded myself the luxury of a sit-down toilet break. A moment of calm in the chaos, or at least it would have been had I not forgotten to lock the door and been interrupted mid-dump. I also kind of felt guilty that I'd walked in with mucky feet and made such a mess of the floor but this kind of thing is unavoidable when you're going to spend a week living outside.
We had planned to stop for lunch in Yuli but we passed the town without finding a restaurant so decided to push on. At the side of the road we had some more fantastic views. Mountains, rice paddies, palm trees and temples. This was a very nice part of Taiwan.
The navigation was pretty simple from here on in. We just had to keep following Cycle Route One. We'd been following this for a while so I switched the map off on my phone. This ended up taking us up a mighty hill on 60km that we would otherwise have avoided. The plus side was that we were able to pass a monument on top of the hill marking the tropic of Cancer.
The tropic of Cancer is the northernmost lattitude where the rays of the sun can shine vertically and there seemed to be a lot of tourists around this monument on the top of the hill. It was a good excuse for us to get our photos taken with the flags again. And the sun was back out. I was still mucky but could feel myself drying out.
We flew down the other side of the hill toward another massive bridge spanning a silted river bed. Further on at 75 kilometers we stopped for lunch. It was still only half past two so we made the decision to push on to Hualien and cycle during the night if we had to. Night-time cycling in the cities isn't so bad. Even when there's more traffic, it normally isn't going so fast and it's not generally dangerous. Besides, we had lights on our bikes. We'd make it to the city fine-rightly.
To get prepared for the ride into the city I ate like a monster at the lunch stop, fueling up with two main courses of noodles and dumplings and side orders of tofu, seaweed and spinach.
The road into Hualien was good. The rain had started up again, but the next 30km just flew by and we reached the outskirts of the city by sunset. I used my phone to navigate the rest of the way through the city to the train station. As the route-finder had no option for cycling I had to alternate between walking directions and car directions and use a bit of initiative. The difficulty came when we reached the busier part of the city and we had to negotiate the traffic. I had no idea how to turn a left and it wasn't anything like cycling in mainland China. But we arrived in one piece.
We booked into a nice hotel near the train station. On reflection it might have been more authentic to stay in a hostel and rough it a bit for the night but I just booked the first thing I saw.
The hotel wasn't too expensive, at around 40GBP you couldn't get anything in the UK near that price, but I could tell from Ning's expression that she felt it was a bit too much of an extravagance. Well, if anything we'd deserved it. 128 kilometres covered in ten and a half hours cycling, not a bad day's trek.
The following morning we'd take the train from Hualian to Badu then cycle from Badu on to Jinshan.