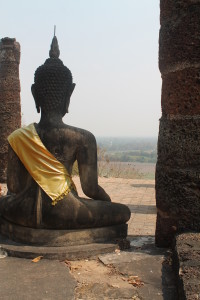 Thailand, the land of Buddhist monks, bar-streets and kick boxing. Also a perfect holiday destination. Whether you're there to look at the pretty ladies, to walk on the sandy beaches or visit ancient temples, you'll find Thailand has just about everything for everyone. Me, I had two weeks off for Chinese new year and wanted to enjoy the fresh air and run in some exotic places. Bangkok, Ayutthaya, Sukhothai, back to Bangkok for the Don Bosco 10k and then onto Hua Hin and the beach for some rest and recuperation.
It would be 14 days staying in 7 hotels covering a good stretch of the country so I decided to travel light with a back-pack and hand luggage. It was a 6 hour flight from Shanghai stopping briefly in Hong Kong. Just enough time for a few episodes of Family Guy, American Dad and  jazz drumming masterpiece Whiplash. Best film I've seen in a long time and well worth a view even if you're not into jazz music.
On arrival my Chinese companion had to wait for a temporary visa while I sailed through the visa exemption lane. Just one of the massive benefits of my UK passport. We spent the first night in Bangkok and the first day looking at temples before taking the train up to Ayutthaya. Still not a great distance from Bangkok but the air was fresh and after a day of site-seeing I decided to go for a late run.
 Ayutthaya Angry Dog Run
Ayutthaya is where the Siamese king famously defeated the Burmese heir in single elephant combat in 1593. Today there are a lot of dogs. I'm not too fond of dogs at the best of times but at night time in a foreign country they can be particularly annoying and a bit scary, especially when you have a lot of them. So, when I set out from the hotel it wasn't so dark and I reckoned I could avoid the dogs. But in Thailand, being close to the equator, the sun drops like a stone and nighttime arrives like someone switching the lights off in a damp elevator. The initial plan was to run from my hotel past the historic park up to the reclining Buddha in the west of the old city for a 6 or 7 k run. I got as far as the start of park with the reclining Buddha and had to turn back. Big packs of dogs everywhere. I clutched my torch all the way back but every few hundred k I came across a stray or two snapping at my heels. Not nice.
There's also not much footpath in Ayutthaya and the roads are quite busy. This is ok on a bike when you're out to see the sites, but it's not that good when you're running. I ended up doing 4.9k. Not much of a run but at least a half decent workout to keep me going until Sukhothai. Ayutthaya is stunning during the day but not so nice for running at night-time. A better plan would have been to set off in the morning and go through the historic park. I'll try that next time if I make it back.
Sukhothai Old Town City Wall
On to Sukhotahi, a good 400k north of Ayutthaya and this time a more relaxing morning run. This made a lot more sense. After the 6 hour bus ride I got up early for a rout round the city walls of the old town. My hotel was about 500 meters away and once I reached the eastern city gate I could run alone round the perimeter of the old-town. Embankment on one side and beautiful Thai county-side on the other. Four stretches of long uninterrupted dirt path around each flank of the city. Beautiful.
I kept the pace at around 4:45 as I only had a days rest since Ayutthaya and had to deal with the heat. The path on the south wall was in great condition but by the time I got round the west wall to the north wall it started to get a bit patchy. Eventually, near the end of the north wall after about 6k I ran into jungle and had to turn back. I held my pace on the way back until 10k then picked up a bit for the last 2k to get home.
A great run, but if I stay in Sukhothai again I'm going to try and get up earlier and run round the historic park to the west of the city with the standing Buddha on the hilltop. This park has a lot of trails and would perfect for running.
In another two days I would travel back to Bangkok for the Don Bosco 10k. A 6am start in the heat of the city. Hopefully I hadn't tired myself out and could put in a solid race without suffering too much. I still had to properly come-back from my injury at the Shanghai 10 bridge half marathon and was very conscious of carrying some extra weight. I was praying for a decent performance and not too sure I could pull it off.
To be continued…