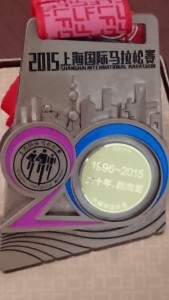 Sunday the 8th of November would mark the 20th anniversary of the Shanghai International marathon. This would be my 8th race at this distance and another attempt at a Boston marathon qualifying time of 3 hours 15 minutes. I'd been training hard all during the hot summer and stepped up to running virtually every day in the autumn. So, despite a disastrous Leicester marathon two weeks prior, where I seriously fell apart around the 35th kilometer, I still had the BQ time on my mind.
In fact, despite being my worst result ever, Leicester wasn't actually that bad a race considering I'd suffered a melt-down around km 35 in each of my other marathon races. This is what happens in marathons. For the first ten kilometers you float, for the second ten you start to feel your legs a bit, after the halfway point you start to struggle and for next five k you suffer. Somewhere around 35 you hit 'the wall' where your legs start to cramp and you struggle to move. The best you can do is train hard and delay the agony by taking in whatever nutrients your body needs to fight on. The general rule is to take water to hydrate, sugar for energy and salt for cramp, but it can be hard to know what you actually need at any given point in time.
I didn't take and gels or sugar during my first marathon in Puebla 2011. This worked fine up until the half way mark when I first started to slow before buckling at km 33. I still managed to grind it out and reach the finish with a not-too-shabby time of 3:16:24. The 40th k was particularly painful, taking around 6 minutes 45 seconds.
For the next marathon race, a flat cross country in northern Germany, I ate some chia and bananas at the half way point. This helped me to a time of 3:13:12 with a similarly painful finish. For the next Puebla Marathon in 2012 I used gels but hit the wall firmly at km 31 before recovering slightly to finish in 03:30:33. This slid to 3:32:32 for the Mexico City marathon in 2013 where I hit the wall at 35 k and ran the 38th kilometer in over seven minutes.
I dropped out injured from the Verona marathon in 2013 and came back for the Puebla marathon two months later with a time of 3:27:32 on the new hilly course. This result actually wasn't so bad as I was carrying an injury and the slow-down at 35k wasn't as pronounced as with the other races. Leicester was my worst race in terms of slowdown where I hit the wall at km 34 and ended up being overtaken by more than 50 runners (out of a field of 500) in the last 10k. The only runner I actually managed to pass in the last 10k was a man dressed in a donkey suit, and the slow climb uphill through Leicester city-center was somewhat hard to take.
Two weeks, 10,000km and one trip to Japan later I was back in China facing the same ordeal at the Shanghai marathon. 15,000 people would run this year's full marathon with another 15,000 running the half-marathon and 10k. You only had to turn up to the packet pick-up and race exhibition to get a feeling for the scale of the event. And if you were prepared to scan things into your we-chat account (this is like a Chinese facebook with barcodes) then there was no end to the free stuff you could pick up. I managed to grab a bunch of bananas that would come in handy for pre-race fueling in the morning.
It would be an early start to catch the subway at 6am in the morning. And the train was packed with runners arriving from all parts of china and around the world. The congestion got worse as we approached the starting point. I stopped for the toilet and arrived in corral A 45 minutes before the start. I didn't imagine the public transport would be so efficient. No space to move, but some time to meditate and mentally prepare myself for the race. I was stood next to a Swedish guy who had run the Hangzhou marathon the week before two pacers for 3:10:00. The Swedish guy told me that the pollution count was low and it was a nice flat course. It was moderately cold and a bit wet. Perfect conditions. One of the pacers' balloons came loose and the crowd cheered as it floated off into the sky.
The national anthem was played, the gun fired and we were off. A slow jog at first, gradually building up to a canter. There were a lot of people and the road became quite narrow at points so it could be quite tricky trying to avoid the other runners. I tried to stick with the 3:10 pacers as much as I could but they had to weave to make it through the crowds and it wasn't always possible to follow them. When the field started to thin around the 5k mark we picked up the pace. This ended up feeling bit fast for me and my legs were starting to ache a bit. On reflection this was probably down to anxiety as much as anything, but the long wait at the start without being able to warm up properly couldn't have been much help either.
As I hadn't drunk anything in the half-hour before the start of the race I decided to take two drinks at each aid station, an isotonic drink then a glass of water. This slowed me down and I could feel the pacers pulling away from me, but my I knew it would be a long race and I would need the sustenance by the time I reached the end. After the result in Leicester this was to be a priority.
Eventually I pushed past the 3:10 pacers and started to use the other runners to mark my time. I pushed past a couple of 3:15 pacers who were somehow past my 3:10 pacers then onto another group of 3:10 pacers (one of these was the guy who lost his balloon). After this I fell into a pattern. I would catch up with the pacers, then stop for two drinks at the aid station and fall behind, then catch up with the pacers again before the next aid station. I had no problem with losing the pacers, but if I ran out of juice I would be screwed.
Before I knew it we were up on 14 km, a third of the way gone, then 21, half-way. My GPS had somehow a kilometer more than the markings at this point. I couldn't tell if this was the calibration with the tall buildings or the weaving and long corners at the start. I took a hydration tablet at this point and drank half a bottle of water. Next we were crossing a bridge at 28 with the 32km marking on the other side. This was the worst climb of the race and it was really nothing. I sucked down a gel and immediately started to feel a bit queasy. The 3:10 pacers were slipping away but I still felt strong, this was the most important thing. I knew if I just hung on then I would get my time.
By the time we reached 32k and crossed the bridge again I was completely focused on finishing. I could already feel the first tinge of cramp in my left leg but it was confined to a very small area and didn't seem to slow me up at all. I poured some cold water on my legs to wake them up. It seemed to work as I was holding a steady pace. I kept trying to imagine the distance left and how it would map out to a familiar path back home. It wasn't so much. I knew I could make it but if I let doubt creep in and slowed down too much then I'd be sunk.
The worst thing that happened from here to the finish line was the sight of runners pulling up with cramp. This is what had happened to me just two weeks ago in Leicester and I knew that if it happened again then a lot more runners would file past me and it'd feel a lot worse. I held on through the last built up area until we reached the turn into the stadium. I glanced at my watch and tried to get an idea of what time I would finish with. But I wasn't sure what had happened with my GPS or if we finished inside the stadium or not. It was impossible to think. So, I turned the corner and saw the finish 200 meters away. Maybe I could get 3:10, but all the 3:10 paces had passed me a while age. I put my head down and sprinted for the line.
After I crossed the line I checked my watch. 3:10:02. I'd made my Boston qualifier with a personal best. Later when I checked out my net time on the website it showed 3:09:59. In by five minutes with a distance of 43.57km on my GPS. Finally, I'd run a marathon without hitting the wall. I think the trick for me was slowing down to take fluids and training on consecutive days.
My legs ached when I went to pick up my medal. I'd left everything out on the course. But it felt great. No nagging doubts of what could have been, no regrets and I knew I'd sleep well that night.
Boston 2017 here we come!!