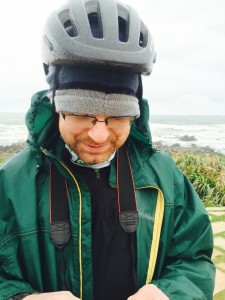 The first day proper of our bicycle camping adventure in Taiwan would take us from Koahsuing to Fengang along the west coast. A tough start with a couple of flat tires. This turned to be the coldest day in Taiwan in over 70 years and we covered just over 78km, before having to stop due to bad light.
On the first day we were still tired from travelling and slept in until 7:15. This was too late. Sunrise was around 6:30 and we needed to make the most of each day if we wanted to make enough progress. We weren't that hungry and the breakfast didn't look that appetising but we needed to eat. So, I pushed down some eggs and juice and went back upstairs to check the bike before going out. We ended up getting out at 9:20 feeling sleepy but ready to go.
The bike was heavy but didn't feel too unstable or anything. It felt good to get going so we pushed trough the city taking a route out of then around Koahsuing on the east . The rain was pouring down and it was cold. The wind seemed to be pushing us back. My feet were soaking and my hands were numb. It was hard going.
We finally left the city limits at around 30km crossing the erchongxi river (二重溪). On the way across the river a disaster. A flat front tire. We struggled for about half an hour trying to fix it with numb hands. I wasn't happy and panicked a bit. I thought I had a flat because the bike was overloaded and wasn't sure the repair would keep. We should have bought inner-tubes at the Giant shop. I'd wanted to buy some but it'd somehow been lost in translation. We fixed the tire in top of the bridge with my foot in a puddle.
Just as we got my tire fixed, more bad luck. Another flat tire. This time on Ning's bike, the back tire. We moved under the bridge to fix it to get out of the elements. Under the bridge was a bit dirty and I was worried that dirt would get into the repair but we couldn't stay on the bridge any longer. We fixed this one a bit faster but we'd lost about an hour in total. It wasn't good.
We cycled on another five our six kilometres and stopped for lunch at a roadside fish restaurant. 37 kilometres gone. I was soaked through to the skin and frozen but the food tasted good. We ate a lot.
After another few kilometres we crossed another bridge and passed into the countryside. Miles and miles of jungle. This was getting good. We stopped to buy some fruit and the guys in the shop gave us a map and directions to a hotel in Fengang where we could keep our bikes.
Further down the road we joined the coast. It looked fantastic. The hot water meeting the cold air made the steam to look like clouds rolling directly off the sea. This spurred us on an the bikes seem to roll effortlessly along. The coast road was a bit hilly but the bikes were moving well and we felt like we could go on for a while.
Around 6pm in started to get dark and the road was busy. We needed to find somewhere to crash for the night. By coincidence we were just next to Fengang and were able to stop at the hotel recommended at the fruit stall. They helped us pump our tires up and recommended another good fish restaurant.
We had planned to go a little bit further on the first day but the late start and flat tires had held us back. 78.4 kilometres covered in nine and a half hours with a 50 meters climb. At least we'd leart a lesson. If we wanted to make good progress we'd need to make the most of the daylight. I reconfigured my GPS watch to give a countdown to sunset and set my alarm to get up early the next day.  We had some time to make up.
Next..
Day 2: On Monday we'd go from Fengang to the south tip of the island and over the mountains to Pingtung County. A pretty decent 92.5km covered over some tough terrain.