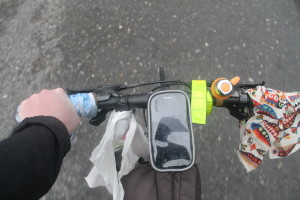 On the fourth day cycling in Taiwan we'd cycle out of Binmao and head north along the coast to Taitung and inland along the rift valley as far as Guanshan. A fairly flat and easy cycle past rice paddies and palm trees in one of the most famous of Taiwan's indigenous regions. Starting out dry and finishing off in the pouring rain.
We woke up a bit later than usual at 8am. I figured we both needed some extra rest of the amount of climbing we'd done the previous day. The sun was out and it looked like a great day for cycling. This wind also looked to be in our favor when we turned onto the coast road. The favorable conditions allowed us to make good progress.
Haven only eaten seven-eleven food the previous evening we decided to stop for something more substantial for breakfast. A nice plate of noodles and meat. Great food for energy. I took two helpings and some tofu with eggs. There's nothing like real food to get you going.
We didn't quite see as many cyclists as the previous day but we did see a family cycling with a small child and a baby trailer. Dad was pulling the baby while mum's bike was loaded with all the essential baby stuff. It was great to see that they could still enjoy their cycling even with small children. And these guys were going faster than us at this point.
Back on the bikes we skirted Taitung into the rift valley national park area. The scenery here was fantastic with fruit growing at the side of the road and rice paddies reflecting the mountains on either side. There was also a dedicated lane for bikes and a lot less traffic than the coast road. We had to climb a bit now but it was a very pleasant cycle.
It was interesting to see the fruit at the side of the road growing inside bags. Ning and I had different theories as to why they might do this. I thought it might be to save time in getting the fresh fruit to the shops. Ning thought it might be to keep heavier fruit from falling off the tree. In any case the Taiwan people seemed to love their fruit with plenty of paintings and sculptures of fruit around the island.
We kept pushing on through the small towns until it started to get dark and the heavens opened. Ning was going just about as fast as me at this juncture so I didn't want to slow down and put off unpacking my rain jacket until it was too late. I was soaked to the bone by the time we stopped.
We stopped and found a campsite in a little town called Guanshan. It was empty and we'd be the only guests. This was perfect. We could take up enough space as we wanted and they had shelter from the rain. What they didn't have was a proper shower. I had to wash with a bucket and tap before putting my wet shoes back on to go out to eat. But you get used to these hardships when you're on the road. This was real traveling.
That night we feasted on home-made noodles and Chinese jelly desert. Cycling, or any kind of outdoor exercise, seems to do something to me that makes good honest food taste great. I think its something to do with your body telling your brain that you really need the food. So with full bellies we went to sleep ready for the next day's cycling. 76.9 km covered and just a bit behind schedule to reach Hualien the next day.
Next. On through the rift valley and out back onto the east coast at Hualian city.